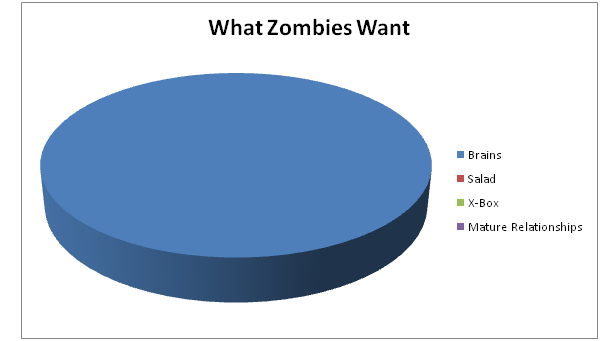 Skeptics love to debunk zombies and the undead. The idea of a zombie outbreak presents several logical points open for debate, such as causes, physiology, the contagious nature of an epidemic and even if a reanimated corpse is possible. Skeptics illustrate that conventional, "real" zombies exist only as a product of voodoo sorcery using tetrodotoxin, or TTX, as a means to incapacitate and render almost unconscious their victims.
For the sake of this argument, I will be referring to a zombie as not a member of the undead, but rather human bodies acting seemingly without a will of their own, with an intention to consume, destroy, or otherwise cause general grief to the remaining human populace.
Zombies in popular culture form three distinct classes:
Walking Dead – undead, walking dead or reanimated corpses
Viral – viral, parasitic or infected humans
Scientific – scientifically altered humans, through radiation, poisons or drugs, or psychic conditioning
The Walking Dead
Our current understanding of human physiology, biology and chemistry tell us that a human corpse cannot rise, reactivate or in any other way reanimate. There must exist an external stimulus to bring about reanimation. If such a stimulus succeeds in reanimating a corpse though electricity, nutrient rich serum, or some strange radioactive measure, the corpse will still have difficulty with life support. A reanimated brain can function and provide basic skills such as breathing, blood pumping and simple motor skills, operating on a primitive, feral level. The reanimated head and brain show signs of smell, taste hearing and sight. This is evidenced by previous Soviet and current American experiments. An undead person would have one thought: feed to keep the body moving. The only problem is, the entire body would also be reanimated and would need energy to survive, much like any other human does. Air, water, food. Assuming a physiology like that of the living, a heart shot would be just as effective in destroying the undead. Muscles need air and energy, and this is pumped by the blood.
Undead Physiology
If the physiology of the undead changes, it is a different matter. Muscles can operate through electricity alone, that's how they work at the most basic level. Apply a current and a muscle will tense; remove it and it will relax. Corpses always contain rot and the organisms involved in breaking down dead tissue. If the process in reanimating the corpse causes its brain to be active and conduct electricty, the body is essentially a walking meat-machine. The organisms and acids responsible for breakdown of the body will still be present. The moving muscles of the body will produce enough heat to slow or halt the decomposition. The remaining bacteria will remain internal, and begin slowly decomposing the body from the inside. An introduction of warm flesh (human or other mammals) to the zombies digestive system will prevent the necrotizing organisms from eating the zombie. Necessary energies for locomotion would be converted from the byproducts of digesting fresh flesh, and absorbed through the decaying flesh.
If radiation is involved, certain properties could dispel decomposition or produce mutations responsible for an adaptive physiology. In either situatuation, the corpse is not conscious. It would operate on an instinctual level that could include self-preservation through an aggressive nature. It would be more efficient to use muscles slowly, but short bursts of strength or speed could be produced.
Undead Transmission
If the cause of a reanimated corpse is through scientific methods such as resuscitation, electrical reanimation or means as yet uncovered, infectious transmission will probably be nil, as the means of reanimation will be artificial.
However, if the zombies saliva, greymatter or blood contains a toxic solution or causes mutation of the host's physiology, infection could occur. Transmission of disease and horrible toxins can cause a rapid sickness in a bitten victim, causing death. They may not awaken as a zombie, but could certainly be susceptible to the same factors that reanimated earlier corpses.
Parasitic Infections
There exist in nature certain organisms that cause paralysis, altered survival, behavioral and sexual patterns and can evenmake their host suicidal. They use either toxins, neural paralysis or behave as parasites to cause their host to enter a state of zombism, sacrificing itself for the reproductive nature of the parasite.
Zombie-state Causes

The emerald cockroach wasp (Ampulex compressa) is a parasitoid wasp that temporarily paralyzes cockroaches, and takes careful aim at the roaches brain, nullifying its evasive response. The wasp then controls the roach through its antennae, much like a dog on a leash. It steers the heavy roach to its lair, where the wasp lays eggs that later hatch and eat their way out.
Similarly, an unclassified species of Costa Rican wasp attacks an orb weaving spider, which is temporarily paralyzed as it lays eggs on the tip of the spider's abdomen. On the night before the parasitic larvae kill their host, normal web-weaving events take a bizarre turn. Through some unknown mechanism, the larvae compel their host spider to build a web that is very different from that it has always constructed before – the spider builds a stout, reinforced platform which is much smaller. When the new web is complete, the larvae kill their host, and cocoon themselves on the structure.

Toxoplasma gondii is a species of parasitic protozoa that has an interesting means of reproduction. It has the ability to change the behavior of rats and mice, making them drawn to, rather than fearful of, the scent of cats. This effect is advantageous to the parasite, which will be able to sexually reproduce if its host is eaten by a cat. The infection is almost surgical in its precision. Human behavior may also be affected in some ways, and correlations have been found between latent Toxoplasma infections and various characteristics such as decreased reactionary time, feelings of insecurity, neuroticism, and possibly even cases of schizophrenia and paranoia. T. gondii is also correlated strongly with an increase in boy births in humans, leading to an alteration of the human sex proportion. Other possible behavior modifications are suggested by a study suggesting that people not infected with the parasite found women with toxoplasma more attractive. Similarly, brain eating amoeba cause death in humans – and show little signs until its too late.

On a larger scale, the nematomorph hairworm (Spinochordodes tellinii) hairworm lives and breeds in fresh water. However, it spends a part of its life eating the insides of live grasshoppers and then brainwashing the grasshopper into committing suicide by hopping into a pool of water and drowning.
Rabies. Need I mention this? It already carries the common traits of traditional Zombism. Rabies lives in the brain, is transmitted through infectious saliva and alters an animals mind to produce an aggresive, rage filled state. Infections in humans also can cause paralysis, hydrophobia and hallucinations.
Admittedly, a parasitic brain-stabbing wasp or hairworm has quite a leap to go from a simple insect to a human host. It is within reason to assume that such a wasp could attempt an attack on small mammals or otherwise mutate or evolve its patterns if roaches are in low supply or develop counter-tactics. As mammals don't have antennae their ability to steer one is a bit of a stretch. Yet, a mammalian host is still receptive to being internally devoured by wasp larvae or hairworms. With an effective species jump, the hairworm could cause mammals to produce similar suicidal traits. Neither of these would result in zombism, but serve to illustrate brain chemistry and that an organisms behavior can be modified to that of even the smallest parasite. T. gondii's decreasing the male populous is interesting, as it shows even homo sapiens is suceptible to mind and biology altering parasites.
Zombie Parasite Transmission
Rabies serves as the most interesting and most likely candidate for infectious parasitic zombism. While not a zombie in the conventional undead sense, all the characteristcs would be displayed, mainly an aggressive nature, infected brain matter, and transmission through saliva. Infected humans of a mutated or even radioactive strain of rabies would definitely exhibit these feral symptoms – and would probably be fast too. As shown in the remake of "Dawn of the Dead" or the "28 Days Later" movies, fast zombies are a real problem. Though a "zombie" in thoughtless, rage filled terms, a headshot will still bring these humans down. Heart and body shots are another matter – filled with adrenaline and crazed, they may exhibit symptoms of "quislings" and not be brought down as easily as uninfected humans.
Scientifically Altered States
The third, and most probable cause (though mush less dangerous) is through an altered state of consciousness. George A. Romero or John Carpenter would have us believe we're already in this state if commercialism, suburbanites and mass apathy are any indication. However, I am referring to altered brain and body states as induced by hypnosis or toxins.
Altered Consciousness
As documented in "The Serpent and the Rainbow", the tetrodotoxin (TTX) of the puffer fish can be used by voodoo priests to cause a zombie-like state of near death. TTX is a highly potent neurotoxin which causes paralysis and eventual death. Gram for gram, TTX is 10,000 times more lethal than cyanide and posesses a terrifying modus operandi — 25 minutes after exposure it begins to paralyze, leaving the brain fully aware of what's happening. Death usually results, within hours, from suffocation or heart failure. No antidote exists. A victim pronounced dead can be lucky enough to wake up just before his funeral, fully conscious and aware of his surroundings throughout the entire ordeal. TTX has the unusual characteristic that if a nonlethal dose is given, the brain will remain completely unaffected. If just the right dose is given, the toxin will mimic death in the victim, whose vitals will slow to an immeasurable state, and whose body will show signs of rigor mortis and even produce the odor of rot.
Methods induced by sickness, hypnosis or raditation could produce a similar, slowed-brained result. In either case, the zombified person would be neither dead nor aggressive (unless provoked or instructed to be), most likely a threat only to his or herself.
Transmission
Transmission of this type of zombie would be impossible, as the source of zombification remains with the host – either through poisoning or hypnosis. This is non-transferrable and the process could in fact be reversed with proper medical care or a well-placed snipers bullet. This type of zombism is seen as the only plausible kind, and skeptics debunk it as a world-ender much as I have. However, they fail to mention the above methods.
Conclusion
Voodoo zombies remain a curse – but only in the literary sense. Throughly studied, they pose no threat to humankind. Research into reanimating or resuscitating the recently deceased is under investigation and has been in practice since the 1940's – but no serious headway has been made, and the physiology of keeping some dead thing alive takes a bit of a stretch – but could be possible.
The most probable cause of a zombie pandemic would be through an opportunistic or mutated parasitic organism or virus. Virii remain the dominant form of life on the planet, able to quickly mutate, adapt and change to live (and kill) a variety of hosts. Vaccination serves little purpose and would only serve as an opiate or pacifying agent – much like "Phalanx" in Max Brooks' "World War Z". The cause of zombies in his world is through a virus called "Solanum" which reanimates corpses, turning their blood to goo and bears many of the same characteristics of zombies.
Should any of the discussed sources merge or attack at the same time – science help us. Stay away from rabid dogs, eh?
Resources
The post A Statistical Analysis of Real Life Zombies first appeared at The Undead Report.