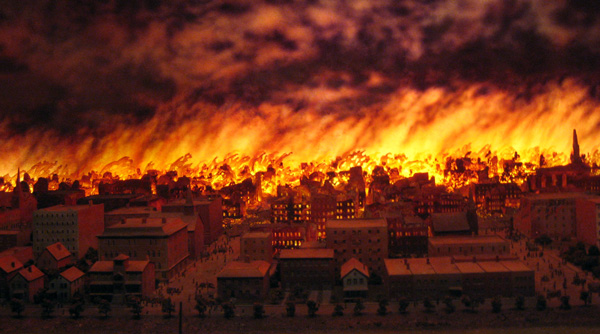 SCIENCE: When the zombies attack, it will lead to the collapse of civilization unless dealt with quickly and aggressively.
How long will civilization have in a zombie attack? A city with a population around 500,000 will have between three and eight days before irreversible catastrophe. This report is based on a well researched, though fictionalized outbreak of the reanimation of the dead. While an uprising of the dead is highly improbable, it remains that a highly contagious and infectious zombie cause could have similar results.
The report was written by several Mathematicians in Canada, notably Robert J. Smith?, an Austrailian who probably sang backup for ? and The Mysterians.  P. Munz, I. Hudea, J. Imad and R.J. Smith? When zombies attack!: Mathematical modelling of an outbreak of zombie infection (PDF)
The researchers chose "classic" slow-moving zombies as our opponents rather than the nimble, fast, and somewhat intelligent creatures portrayed in recent films. "While we are trying to be as broad as possible in modelling zombies – especially as there are many variables – we have decided not to consider these individuals," the researchers said. This is a fatal flaw in the report, as contagious, "fast" zombies have a 100% chance of happening, over the highly improbably undead.
One should take note on the rising global consciousness of zombies tthrough fear, research, art (through film and literature) and popular culture.  Several keen readers and friends have forwarded me the document, and it has been written about on several blogs and has made the news, including the BBC.
Science ponders 'zombie attack' (BBC)
Science Proves Zombies Will Kill Us All (Asylum.com)
Scientists claim 'zombie attack' would collapse civilization (Current.com)
Mathematical Model for Surviving a Zombie Attack (Wired)
These pieces of information, however, require further research and your immediate concern:
Patient accused of biting off doctor's fingertip, which is similar to this zombie sighting in May 2009:  Zombie Bite in New Orleans.
Woman Sets Self On Fire In Mall
The post Zombie Mathematical Model: Slim Chances for Survival first appeared at The Undead Report.