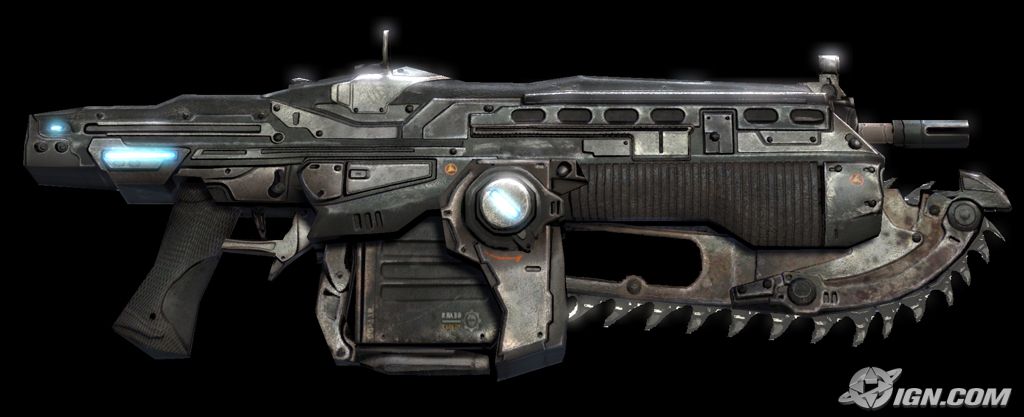 Certain weapons are exemplary models of undead destruction. A chainsaw is good. A rifle is better. A rifle with a bayonet can come in handy. A chainsaw bayonet?
Well, it's not something I'd like to be on the wrong side of. One part electric chainsaw, plus one part tactical rail mount equals twelve parts zombie decapitation. There are distinct benefits to using this weapon attachment – you won't need a strong body to kill the undead, there is a great morale boost to carrying one of these around, it would be handy for carving particularly thick-skinned venison. As the video below shows, sometimes a zombie head won't be destroyed by bullets alone.
Yeah, it's pretty badass. As a tactical zombie weapon, it has some merit. When you run out of ammo in a tight spot, an electric chainsaw attached to the end of your rifle will be a nice thing to have, but you must realise you risk contamination, friendly fire and other hazards by waving that thing around. It should be your last defense. If a zombie infection is a blood-borne pathogen, you won't be wanting any of that getting on you. The bayonet could come in very handy for entering places and point defense / room clearing. Carrying around a charger and spare batteries will cause problems.
There's plenty of mess to clean up after you're done carving those heads. I'd say leave the chainsaw bayonet as a novelty. You don't want blood in your eye and if the power goes out, you're not going to find any extension cords handy. I must admit, however, that it would be a great tool to have for de-limbing trees. And zombies.
If you can, get your hands on the AA-12. And somebody please send me one to review!
The post Chainsaw Bayonet first appeared at The Undead Report.