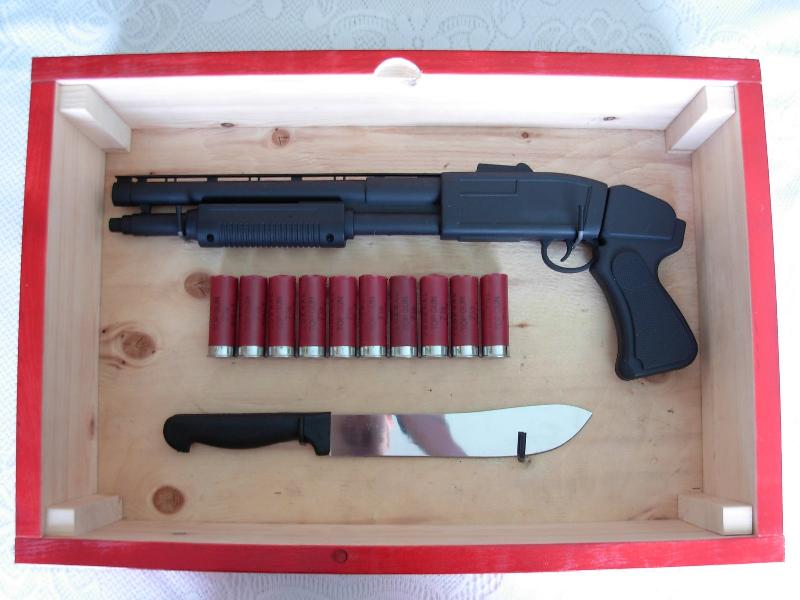 In the event of a catastrophic rising of the undead, zombies, Naegleria infected criminally insane, or even reanimated deer, it's imperative that your home be protected. You can protect your home with style and class by building your own emergency zombie defense station.
A simple offensive kit consists of a primary weapon, an ammunitionless weapon, and a few other provisions. John Lucas at Craftster has created an excellent mockup of such a kit. While he uses non sharpened implements and non-live ammunition, I highly suggest building a fully-functional kit of your own.
The kit consists of an pump action shotgun, shells, large knife and a plexiglass shield. Note also the high quality instructions included with the kit. In preparing a kit of your own, it is suggested that you leave the shotgun fully loaded and maintain extra shells in an easy to use bandolier. There is no point of keeping an anti-zombie weapon on your person or premises if it's not going to be loaded. Zombies don't wait for you to reload while they chew on your collarbone.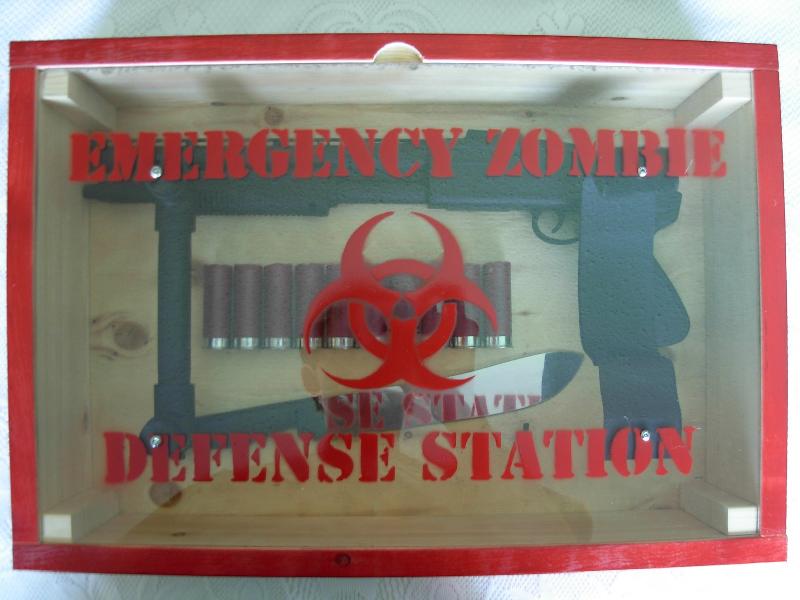 This kit functions best as a stand alone offensive solution. Its best tacitical placement would be near obvious weak zones in your home, such as entries, near large windows, or in cramped locations. An excellent place for such a kit as this would also be an upstairs window, or near a porch roof – shotgun blasts to the head should be sufficient enough at this elevation to cause complete destruction of the cerebellum and pons. You don't want a Mike the Headless Zombie" wandering around, trying to eat things with just a throat. It's pretty gross.
Don't forget that you'll still need a larger kit, and should have your whole house prepared anyway. I suggest the following: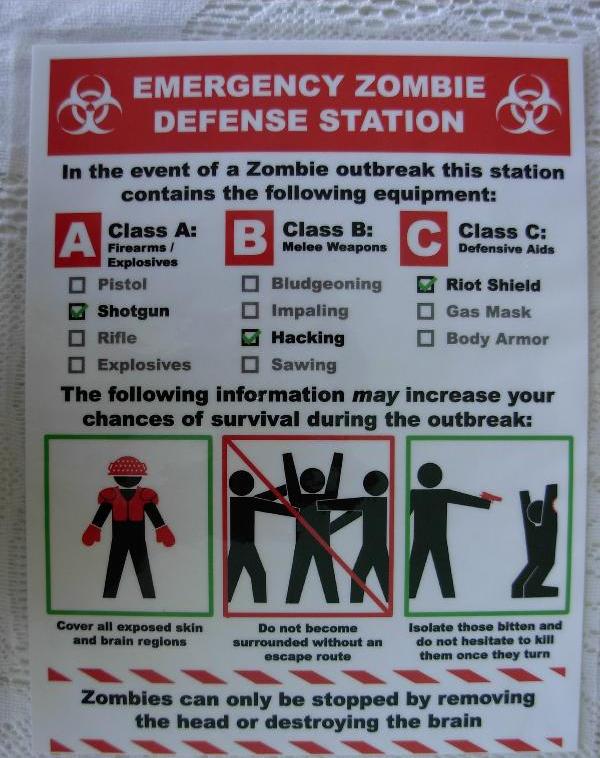 Benelli Super 90 8 Shot Pump Action Shotgun
100 Shotgun Shells – though why limit yourself? Have at least 4 bandoliers per person.
Pikes, ninjata or other polearm – for a ranged blade attack.
Lightweight Machete or Ginsu Knife – you want something easy to swing in close quarters that will sever the spine on one blow.
Remember: a member of the undead — and a member of the living for that matter — can still function and move with just a brainstem. You want complete severing of that head! When taking a headshot, aim through the mouth and towards the back for a square, clean shot.
John Lucas
Emergency Zombie Defense Station
The post Zombie Attack Defense Station – Prepare your home! first appeared at The Undead Report.