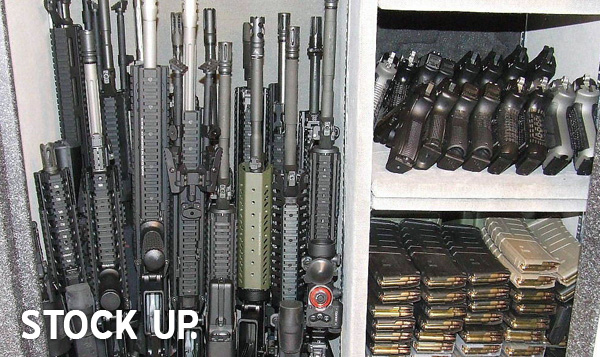 S#it just hit the fan. The zombies have come. The infection has spread. They're neither fast, nor slow, but they do attack and they do kill, and the infection is spreading, and you probably can't tell the infected from survivors until it's too close or too late. This is the moment you haven't been adequately planning for.
Let's go raid the gun store! No, let's go hit the military base that just happens to be in my city! Screw it, let's get out of town. FAIL. There will be no gun store, the military base will shoot anyone within 100 yards, and every road will be blocked.  Luckily, the fellows over at Cracked have already thought of why your plan will fail. Here's a counterpoint.
#5 — The gun store / military base run.
Cracked has it spot on here — you're not going to be able to run to the gun store when things get bad, and if you can, expect to be met by many other people and the store owners. With that many guns, it won't just be the infected getting hit. Stock up before hand, and if there are no firearms in your region (or they're even  banning knives), you had better be damned creative, or else be really accurate with your stone throwing. Your best advice is to run and bash in some brains while wearing some biological protective gear.
#4 — Leave town.
Seeing as around 50% of the population now lives in urban areas, you can expect the roads out will be crowded and moving slower than an LA rush hour in a snow storm. Cities also breed filth, infection and disease. Expect zombie infection and attacks to be at an abnormally high level in a metropolitan area. You will have a very short time before you are attacked, infected, or caught by angry mobs or survivors. If you find yourself caught, stay put temporarily, then wade through the madness. Stick to back roads, but not so remote as to be slaughtered by gangs or bands of survivors.
#3 — Fortify your defenses.
If you're making do in that urban stronghold, it won't last forever. In the rare instance that you have a bomb shelter, congratulations as you are in the top percentile of likely survivors. Most of us are apartment or common home dwellers, and such luxuries are unavailable. If you can support yourself for about a month, you may have an edge to ride off the initial infection and retaliation stages, but after that you will need to resettle and re-secure the area. While Cracked is using undead as their zombies, in reality the zombies are alive, can and will move about, passing infection to other areas as they run out of food and aggressors.  You will need to cordon off and fortify the rest of your area, not just your dwelling.
#2 — Use melee weapons when possible.
Cracked has it spot on — you don't want blood and infected flesh getting on or near your person, even if you have a biological contaminant resistant suit. Max Brooks is just foolish when he says to use blades or staffs when possible — you want the infected to be as distant from you as possible when they die. Carry a fireaxe, kukri, aluminum bat, staff or other strong blade on your person for emergencies and close quarters, but be proficient with that firearm first. You will most likely be able to fight through or evade most attacks before they happen. Remember to always put distance between you and any aggressor. Distance = safety.
#1 — Always aim for the head.
Headshots will permanently disable your aggressor, though you are targeting a much smaller and harder to hit area. Center of mass will still work against the infected. Severing limbs will slow them down and blood loss will eventually kill them.  An automatic weapon will serve as a morale booster and can plant several center of mass shots, but it will burn through ammo if you're not careful. If you have a headshot, take it to kill and conserve ammo, but certainly you can puncture a heart and lungs and kill them that way. Distance first, then destruction.
Thanks again Cracked, for pointing things out to a wide audience, though remember, we will be fighting "new" zombies.
And now some teaser info:
There's a new breed of zombie interaction coming to Chicago. Zombies Attack Chicago is a live interactive event incorporating mixed media, make-up, special effects, and stage violence. Think of it as an interactive  "Chose Your Own Adventure".
Every October Friday, $15 @ The Spot 4437 N. Broadway Ave, South of the Wilson Redline. More information soon, and special deals for my lovely Undead Report readers.
The post Early Apocalypse Survival Mistakes first appeared at The Undead Report.