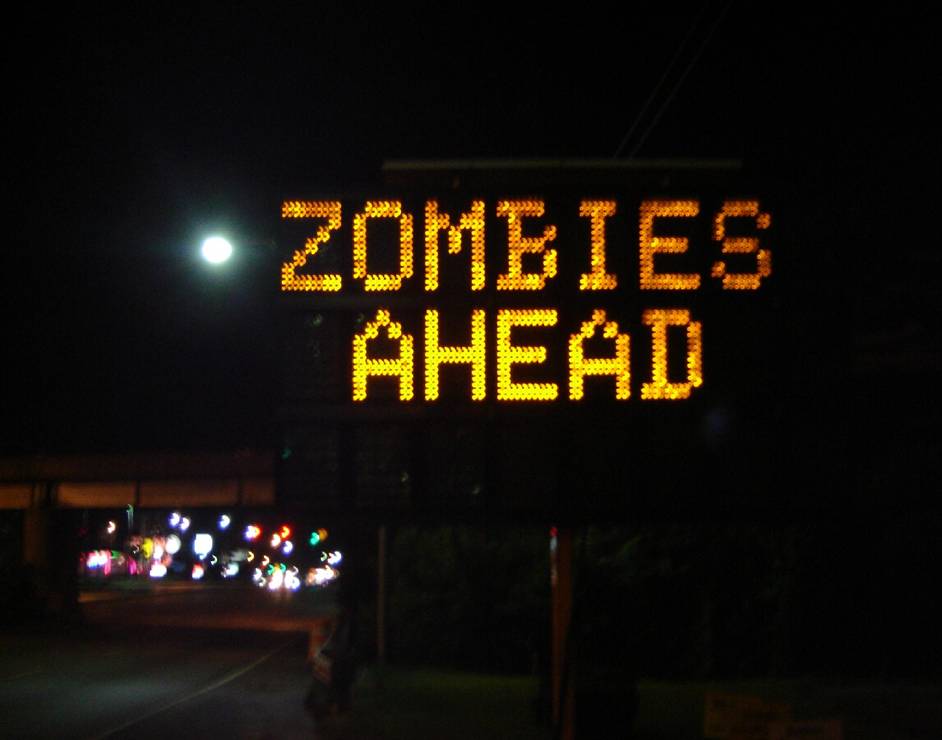 Making the rounds on the zombie web is a hacked road sign in Austin, Texas reading "Zombies Ahead".
Fantastic, this is an excellent idea and warning of things to come. While I cannot condone any illegal activites, the know how to change a road sign could be very useful in the event of zombie outbreak or space radiation attack. If you are aware of an outbreak and feel inclined to adjust road banners, make sure you keep the exisiting message and place your warning on a separate page. You don't want people to avoid the zombies only to be unaware that the bridge is out!
Updated info after the jump!
While most road sign control pads are placed in a lock box, it's seldom locked and rarely under password protection. The password is ususally the default code "DOTS"—or you can easily reset the password by holding "shift" and "control" while typing "DIPY" (so that it just defaults to "DOTS" again).
Many of the road signs are powered by a small generator, but there are some solar powered models. These can be very useful during an apocalypse – you're not going to run out of sun (nuclear winter excepted). Do your homework, stay alert.
Resources
Inside Programmable Road Signs 
Hackers Crack Into Texas Road Sign, Warn of Zombies Ahead
Update 2009-01-31: More Warnings
Things are starting to look a little sketchy. Perhaps Austin is really under attack and the news reports and images are disbeleiver's shock, or a cover up. Images below. The idea of nazi zombies is particularly distressing. What is this, Return to Castle Wolfenstein? Time to break out the zombie targets.
Update 2009-02-03: Illinois Zombies
UDR reader Coral writes in that "zombie" road signs are seen in Illinois. The hacking and sighting menace continues across the USA.
Sign warns Illinois drivers about zombies
The Illinois freeways have apparently been taken over – 'conquered' if you will – by a master race of commuter zombies. It's difficult to tell from this vantage point whether they will consume the captive IDOT workers or merely enslave them. One thing is for certain: there is no stopping them; the zombies will soon be here. And I, for one, welcome our new undead overlords. I'd like to remind them as a trusted blogging personality, I can be helpful in rounding up others to toil in their underground brain mines.
The post Zombies Ahead: Hacking Road Signs in an Apocalypse first appeared at The Undead Report.