Aim and survive. Be prepared. You've been warned.
If you found yourself trapped in a gymnasium with hordes of brain hungry zombies coming from every door and window, what would you do? Fight? Flee? Scream? You'd probably die, because you haven't seen the second hand tacitcal simulation that is being demonstrated here in Chicago. A small group of survivors has been banding together in a gym and running repeated drills on zombie holocaust survival and zombie elimination.
The Sandbox Theatre Project is running a preparedness simulation called "Multi Purpose Doom", which is performed at 9pm every Friday and Saturday night through August 23rd at the Menomonee Club in Lincoln Park. The exercise consists of several groups of day-to-day people who have inadvertently been overbooked in the same gymnasium. The jittery self help group, a woefully unprepared and ditzy high school reunion organizer, and the jocks all try for their right to own the space for the night. The typical survival character archetypes shine after the inevitable (and bloodily hilarious) zombie outbreak.
The production values are quite high with blood filled theatrics, moulage, costume design and dismemberment. From ballerina to nervous life coach, all manner of zombie come out to feast on a half dozen survivors. Slow moving, brain eating zombies are a highly unlikely scenario, but the director uses them to create great comedy and tension building. Of note is that particular zombies exhibit character traits of their recently lost humanity. These low-memory zombies present several problems that our heros must quickly and creatively deal with in order to survive. Reactionary and improvisational fighting is key to fending off an attack in unfamiliar and undefended locations, especially if the zombies exhibit low-function thinking.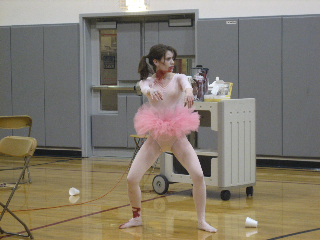 The survivors demonstrate proper infected restraint techniques, but fail to adequately barricade entrances and exits. Melee or close combat weapons are also missing. As one unfortunate survivor demonstrates, I suggest not going alone for ammunition and provisions.
The production is full of excellently choreographed gunplay, combat, suspense, humor and tension. The producers have taken certain liberties to include the gunplay in a family-friendly house, but it is still quite effective in illustrating proper zombie removal techniques. Zombie movie cliches are seen as each survivor has their shining moment towards the end of the play, but this is will written with a nod to popular zombie cinema.
"Multi-Purpose Doom" is a must see for any zombie fan. As zombie preparedness training exercises go, it's top notch and the high quotient of humor is a must for keeping your sanity. If you failed to collect your shwag at this years earlier events, you get a killer Zombie Survival Merit Badge for coming to see the show!
The exercise runs Fridays and Saturdays July 18th -> August 23, doors 8:30, play 9:00.
Menomonee Club 1535 N Dayton, Chicago $15
Multi-Purpose Doom at Sandbox Theatre Project
The post Multi-Purpose Doom: Tactical Analysis and Review first appeared at The Undead Report.