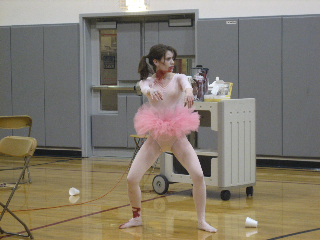 The old community center is always a good place for family-friendly wholesome gatherings. Shoot some hoops, learn to dance, and make new friends. But is it adequate for when the zombies take over? Wait, what? Yes, there you are rollerskating around the big room with Abba on your Walkman, when legions of the Bridge Club's little old ladies and do-good sporty kids come storming in looking for hungry, youthful brains. Where's your trusty sidearm?
Update 08/04/08: SEE THIS PLAY
It's not so much a play as it is a first-hand observational experience in survival, horror, comedy and defense. It's well produced and well acted, and follows the characterization and drama of Romero's signature movies. The play is suggested donation $15 and it's absolutely worth it. You also get a zombie survival merit badge to add to your collection!
Fridays and Saturdays July 18th -> August 23, doors 8:30, play 9:00
Menomonee Club 1535 N Dayton, Chicago $15
First a zombie pub crawl, then a thousand zombies marching downtown, and now zombies are invading the stage. In a rather inventive site-specific play, Sandbox Theatre Project is performing a zombie themed horror comedy in Lincoln Park called "Multi-Purpose Doom".
The Menomonee Club in Chicago's Lincoln Park has been triple booked. Extracurricular opinions clash as everyone jockeys for exclusive use of a room meant to build community not rabble-rouse! Everyone may be forced to get along after all when people start disappearing only to reappear with pale skin, a slow gait, and the nagging need to eat everyone else's brains.
From the Centerstage Chicago review:
With a nod to George H. Romero's "Living Dead" movie series, as well as plenty of blood, laughs and a certain powdered soft drink, Sandbox Theatre Project's production of "Multi-Purpose Doom" will keep you on the edge of your seat—and since you'll be sitting on bleachers, that's the perfect position.
In the brightly lit gymnasium where the play is set, the glaring overhead lights give the feeling that nothing could go wrong. The gym has been overbooked for the night among a high-school reunion set-up crew, basketball players and a self-help group full of easily rattled members. So what group gets the rightful use of the gym? Only the authority of the seen-it-all janitor can solve the problem.
Then the zombies arrive, and hell seemingly breaks loose. Not to fear, the janitor happens to be well-versed in dealing with the undead, and leads the living on a kill-or-be-killed mission providing action, adventure and through it all, self-realization.
When the action gets going, and the zombies begin their rampage, the entire ensemble shines. They hold back nothing. It's not only fun to watch, but because of the audience's proximity to the action, you really feel you are taking part and rooting the living on to victory.
A nice touch Sandbox lends to the production is the interaction the ensemble has with the audience beforehand. Audience members are encouraged to shoot baskets with the actors, explore the Menomonee Club facilities and remember what it's like to be back in a gym.
Fridays and Saturdays July 18th -> August 23, doors 8:30, play 9:00
Menomonee Club 1535 N Dayton, Chicago
The post Zombie Theatre: Multi-Purpose Doom first appeared at The Undead Report.