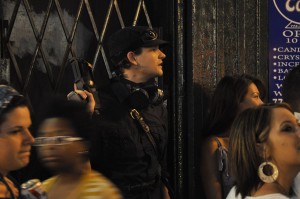 On April 26, 2008 Chicago had a terror scare of the undead. Approximately one hundred zombies were seen lurching and limping around Andersonville in Chicago's north side. Mixed in the cacophony of shouts and groans were cheerleaders, nurses, doctors, sports players, the fresh undead, alien chestbursters and more.
An event produced by improv group pH productions, Chicago's first zombie walk was a drunken growling pub crawl full of the worst people –  and I'm not talking about Cubs fans. The event in Andersonville kicked off around 4:30 PM, with particpants meeting and signing up, applying rouge, blood and makeup, and getting their complimentary t-shirts and tickets. There were at least a good hundred or so people at the start, who proceeded to the first bar in small groups. In total there were about 300 members of the undead shambling about. To see the photos, view the zombie photo section!
Simon's Tavern was the first hit by the brain hungry mob. The bar was quickly packed shoulder to shoulder, though bartenders were jovial and fast, serving "Rogue Dead Guy Ale" to the mob of thirst patrons. A few locals were at the end of the bar, naming zombies as they came in and having their pictures taken.
After a round or two here, some zombies left ot the next place to get more brainy beer. Dozens of zombies shambled down the street, lurching at passing cars and freaking out passersby, who had no idea what was going on. One couldn't but notice the irony as we passed the zoned out patrons of a Starbucks – practically oblivious to the zombies smearing the windows with facepaint and blood as they passed by.
Scores of zombies packed Charlie's Ale House as their regular patrons were confused, witless, scared, or simply annoyed by our presence. Several members left and well – I had some tasty leftover cheeseburgers. I mean brainburgers. Shouts of BRAINS! echoed through the bar as probably a hundred zombies were mixing it up.  Spotted here were nurse and doctor zombies, a DHARMA Initiative zombie, pirate zombies, a man who looked like zorro and a few sports zombies who seemed all too zombified by the games on TV. Amusingly, a pair of daring zombie hunters joined the mess, armed with neon bats and a bright orange hand cannon, looking to cream some zombie heads. Shawn from "Shawn of the Dead" didn't make it out of this panic – he was seen with his trusty cricket bat and covered in gore, sipping a beer at a booth.
MUMMIES decided to join in the madness. A handful of mummies came out of nowhere and started wrestling with the zombies outside of the bar. I'd like to stress that in an actual zombie panic, you'll need to be prepared for anything. If your old friends come back as the undead, chances are thousand year old egyptians might too. Nurses with fresh brains, businessmen and girl scouts terroized cars and petrified bystanders.
Hungry for actual dead meat, my tagalong and I shambled up to Hamburger Mary's in desperate need of charred meat flesh. The best was the look of restaurant patrons as I slowly drug my half lifeless body through the diner in search of food. Upstairs gathered pratically all of the zombies from the earlier pubs. "Night of the Living Dead" played on large flat screen TVs as a dozen zombies danced to Michael Jackson's "Thriller". And oh, the cheeseburgers, they were good.
Aftermath
From a  strictly technical standpoint, this preparedness exercise was executed flawlessly. While zombies may not wander from pub to pub, science does not discredit that the human brain muscle may seek out familar places posthumously. The (only two) zombie hunters I saw do reflect what the odds will be like. You versus a hundred or more.
Drink up now, while you're still able to taste.
Watch Night of the Living Dead for free! 
The post Zombies Descend on Chicago – The Aftermath first appeared at The Undead Report.