In any conflict, one thing is key: your weapon. An uprising of the walking plague, legions of the undead, or hordes of zombies is no different. The well prepared and well armed survivor will have serveral weapons at his or her disposal: a trusty sidearm, a sturdy and damaging melee weapon, and a primary offensive weapon.
The most common primary weapon will probably be rifles, as machine guns and sub-machine guns are currently hard to come by for the general public. After the fall of military and policing units, they may be easier to acquire. Also common and equally as important, if not more destructive, is the shotgun.
Current civilian shotguns are usually limited to 2 or 5 rounds, or in the case of police issue Benellis, a chamber of 8. This can be quite limiting when faced with large quantities of the undead. You need the rapid reload, fire and ammunition capacity of a sub-machine gun while harnessing the destructive power of the 12-gauge shotgun. The answer lies in a devastating new weapon being developed: the AA-12 Automatic Assault 12-gauge shotgun.
The reliability and usability of shotguns during a zombie outbreak is a hotly contested issue. On one hand, their ruggedness and stopping power are not to be underestimated. On the other hand, they take considerable time to reload and their muzzle climb and recoil negatively affect accuracy and successful headshot capability. The AA-12 seeks to eradicate these problems.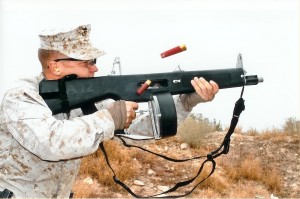 Carrying a 10, 20 or 32 round magazine, firing a devastating 300 rounds per minute and having almost no muzzle climb or recoil, the AA-12 is the ultimate weapon for a zombie invasion. The only potential setback is such a weapon is not legal for a civilian to own as it has no legal sporting purpose. Durable, reliable, strong and machined to withstand various climates, weather, water and grime, the AA-12 will maintain itself as a steadfast and deadly weapon for repelling undead hordes. Videos after the jump.
Now, my friends over at Zombies Are Coming have complied reasons as to why a shotgun does not make for a good weapon in a zombie outbreak. Five bullet points are presented, and the AA-12 fires every one.
1 – Ammo Capacity: Even the Benelli Super-90 only holds eight rounds, and as evidenced by a panicked Ving Rhames in "Dawn of the Dead", 8 is not enough. The AA-12 holds a minimum 10 rounds in a quick loading box, or 20 or greater in a fast firing (and easy to load) drum.
2 – Reloading Ability: No longer is the shotgun operator stuck opening the breech or sliding in shell after shell – just drop and replace a clip or drum with the AA-12.
3 – Rate of Fire: No contest here. The AA-12 Automatic Shotgun produces an incredible 300 rounds per minute – thats 5 rounds per second you're pumping into zombie heads, always on target. You can even mount it on a vehicle.
4 – Range and Power: You certainly don't need to worry about range and power when your grouping and accuracy is so tight. Not to mention you can fire grenade rounds 175 yards – more later.
5 – Ease of Use: It may be heavy, but it's rugged and reliable, and incredibly easy to use; even a 100 pound woman can fire the weapon one-handed. Point and shoot – it doesn't get any easier.
Currently being developed for SWAT and military CQB (Close Quarters Battle) operations, the AA-12 will augment our offensive capability in securing and clearing urban and interior environments of hostiles. As the video below demonstrates, the weapon is amazing in both capability and design. Note the lack of recoil and ease and speed of reloading. The weapon can even be fired one handed, upside down. Also note the consistent, tight shot grouping – hard to do with current shotguns.
As if the capabilites listed aren't proof enough that this is the ultimate offensive weapon, special rounds have been developed for the AA-12. In addition to standard shot, there also exist door breaching rounds, slugs, and devastating grenade rounds called the FRAG-12. The FRAG-12 comes in at least three flavors: High Explosive, Fragmentation and Armor Piercing. The grenade is a fin-stabilized warhead that can launch up to 175 meters, and produces a blast radius of 9 feet. Just imagine what nine feet of exploding shrapnel will do to some undead heads. Incredible. The video below demonstrates the capabilites of the grenade rounds. Note again the grouping of shots and the low recoil and muzzle climb.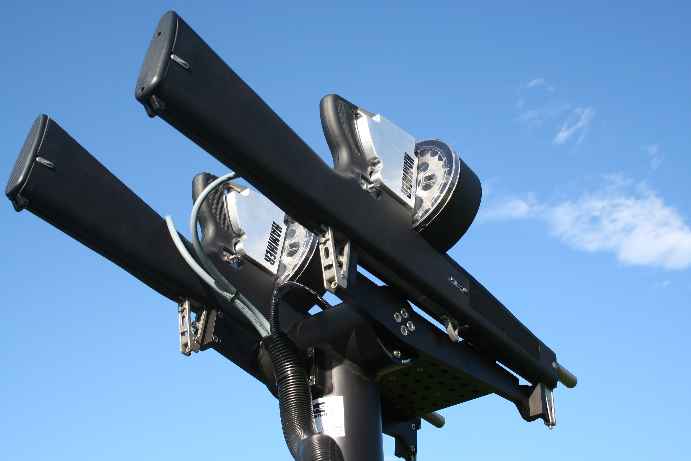 It is of strong concern that even a semi-automatic version of this weapon be made available to the general public. In the event of a rising of the dead, a strong and reliable firearm is mandatory for every survival group. I only hope development and deployment of the AA-12 is complete by then – say before 2012. Oh, and if you're mobile, you can mount it as a remote-controlled, double AA-12 platform called the HAMMER.Resources
The post AA-12 Shotgun – Anti-Zombie Weapon of Choice first appeared at The Undead Report.