Undead Report reader Kender submits the following weapon review.
Ever find yourself waking up in the morning and thinking: "Boy, if there was a zombie infestation today, what would I do to protect myself and those around me?" If you don't you are a total selfish jerk who should be more concerned about the important things in life, such as not being eaten by hordes of the undead. If you're like me and don't much favor the idea of having your flesh decompose in the bowels of the living dead then I have the solution for you. In this article I will be discussing the pros and cons of a variety of firearms and other weaponry that could make you a survivor instead of a snack.
Now I know what you're thinking: "Kender, why should I listen to you? What do you know about firearms and fighting off an army of the walking dead?" To answer your question, I was a Deputy Sheriff for two years and in that time I learned a lot about ballistics and the operation of many firearms; I was also born and raised in Michigan's Upper Peninsula, and as a Yooper I spent a lot of my time shooting guns and hunting stuff.
There are some basic rules to zombie slaying, first rule – Unlike the movies, fully automatic weapons are not the best. When you're dealing with an enemy that can only be "killed" by being shot in the head and doesn't have any sense of fear, throwing a large amount of lead down stream isn't going to do you a lot of good. Full auto is great for living enemies, getting hit by one of those multiple rounds will wound or kill your target, and it can also be used to keep them bogged down behind cover. All full auto will do against the dead is eat up your limited supply of ammo, and during a full-blown infestation you need every round you can spare. Single shot weapons (bolt or pump action) are good for limiting the amount of ammo you waste, but it also slows you down, and when you are out numbered ten to one you need every second you can spare. My recommendation is semi-automatic fire arms, you've got speed and ease of fire in a battle, but aren't tempted to go all willy-nilly and waste all of your ammo.
The first weapon we will discuss is the M1 Garand semi-automatic rifle. The Garand has a long history, it was originally developed in the 1920's to replace the bolt action Springfield 1903 rifle, and after more than ten years of testing and design what is now known as the M1 was produced. Production was slow prior to the war, but with the outbreak of war in Europe production increased, and by 1941 the American Army was completely outfitted with M1 rifles. By the end of the war almost five and a half million M1s had be produced by several different manufactures, including Springfield arms, Winchester, and Beretta to name a few. WWII General George S Patton was quoted as saying that it was "The greatest implement of battle ever devised." The Garand saw action during the Korean War, and the beginning of the Vietnam War until it was officially retired from service in 1965.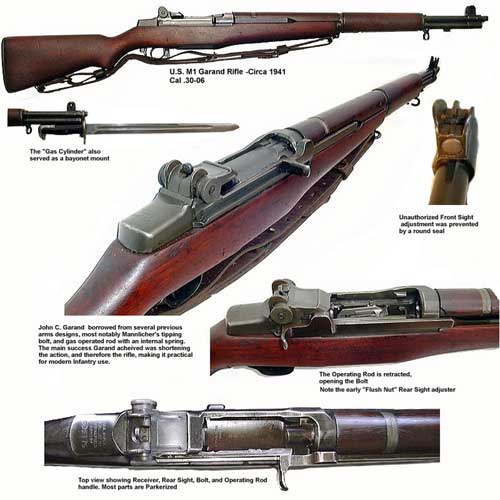 The M1 rifle is a gas-operated, semi-automatic, clip-fed rifle. By modern standards, the M1's feeding system is archaic, relying on clips to feed ammunition, and is the principal source of criticism of the Garand rifle. Officials in Army Ordnance circles demanded a fixed, non-protruding magazine for the new service rifle. At the time, it was believed that a detachable magazine on a general-issue service rifle would be easily lost by U.S. soldiers, and would render the weapon too susceptible to clogging from dirt and debris (a belief that proved unfounded with the adoption of the M1 Carbine), and that a protruding magazine would complicate existing manual-of-arms drills as well as firing and reloading the weapon in the prone position. As a result, inventor John Garand developed an "en bloc" clip system that allowed ammunition to be inserted from above, clip included, into the fixed magazine. While this design provided the requisite flush-mount magazine, the clip system increased the rifle's weight, and prevented it from being fired without a clip, such as while reloading.
The Garand is loaded with a full clip of 8 cartridges. Once all eight rounds are expended, the bolt will be automatically locked back and the clip ejected, readying the rifle for the insertion of a fresh clip of ammunition. Compared to contemporary detachable box magazines, the M1's "en bloc" clip is light, simple, and only has to be oriented with the bullets pointing forward prior to charging the rifle (the clips have no top or bottom).
PROS:
Powerful round, capable of penetrating a skull or doing massive damage to CNS.
Ammunition readily available, can be purchased in eight clip bandoleers via catalogs or gun shops. Should be pretty easy to track down during an infestation, 30-06 is a common hunting round.
Eight round clip reduces the need to reload.
Quick reload, just place full magazine into open magazine and it chambers the next round itself.
Sturdy weapon, can be used as a club / melee weapon
Easy to field strip / clean.
Bayonet mount, so when the going gets tough at least you've got a blade on the end.
Relatively easy to find, US Government had a few million of them made between WWII and the Korean War and many of those are still functioning.
Highly accurate up to and past 500 yards.
Battle tested. (Mother approved)
CONS:
Heavy – Weights over 10lbs.
Has to be loaded with special clips, clips are ejected out the top when they are emptied so you need to keep track of them and try to pick them up if you get a chance.
Loud as all hell.
Hard to be accurate in the dark with iron sights.
Ammunition is large and heavy, can't carry a lot easily.
The post M1 Garand: Semi-auto Zombie Decapitator first appeared at The Undead Report.