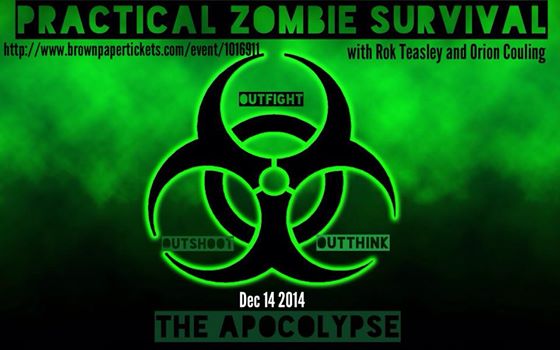 Who will you be when the Zombie Apocalypse happens? Find out how well and how strong you can be this December 14th, in Chicago! This workshop is designed to cover a wide range of fighting techniques useful against the undead while also providing skills that can directly apply in the real world.
In one incredible workshop you'll get:
Practical self-defense training featuring Wing Tsun, Akido and police tactics for fighting the undead and other undesirables
Real time gun training and tactics using non firing training guns
Survival skill building & escape plan designs to use at home, work, malls or anywhere you would find yourself sheltered up
Situational awareness
In addition – you will also receive exclusive training in these skills – available nowhere else:
Group Combat with the SPARTAN TECHNIQUE
Hands on melee weapons training and SKULL SMASHING/CUTTING SIMULATION
Come to the whole workshop or tag in for aspects of it. Those who complete the entire workshop will receive a Zombie Hunting License and Certificate of Badassery.
Tentative schedule is as follows:
10:00 am Survivalist Workshop: Making the Best of the Worst Situation.
11:00 am THE SPARTAN TECHNIQUE: Your friends have made plans to meet up, but would you know how to fight together?
12:00 pm Hand-to-hand: taking down and getting away from Zed heads
1:00 pm SKULL SPLITTING: SIMULATED cutting, bashing, striking and crushing the undead. Featuring Katana, baseball bat, crow bars and more!
Only 20 participants are allowed to enroll as we mandate a 1/10 teacher ratio. We find the best results for workshops of this kind.
WHEN: Sunday December 14th, 10am
WHERE: Ving Tsun Academy, 5th Floor, suite 505, 1932 South Halsted Street, Chicago, IL
TICKETS: Visit aboutme.edgeoforion.com or email workshop coordinator Orion at treasureisland8@gmail.com for more information!
This incredible workshop is available for the insanely low price of $50 per person. We believe these skills are important for everyone to have and so we make sure the price is reasonable. But even at this low price there are discounts for people who want to sign up with 4 or more people at one time. You know those 3 buddies you talk zombie shop with? Those ones with the MRE's and the baseball bats? Yeah – assemble the whole Zombie bashing crew and get HALF OFF!
About the Instructors
Rok Teasley has lead survival and high adventure trainings for over 10 years. He spent 3 consecutive years living in the forest- a majority of it in a tent with no electricity or heating. He has also served for 3 years as a Peace Corps Volunteer in a small village in Moldova. He is adept at rock climbing, kayak/canoe, caving, primitive survival techniques and has become an avid cycling commuter in Chicago- not for the environment so much as for the fun on it. Rok has studied various Martial Arts/fighting techniques over the past 30 years, earning several Black Belts in various styles. He has been training in Ving Tsun Kung Fu for the past 5 years under Sifu Matt Johnson.
Orion Couling has been teaching weapon handling for 11 years. Growing up in the rugged north woods of Michigan, he is proficient in small arms, wilderness survival and tracking. As a tall ship sailor and master gunner, knot tying and blackpowder explosive handling are part of the job. Martially adept with hand to hand (various martial arts with an emphasis on Akido and police tactical), knife and staff. As a stuntman he is an instructor in stage combat with Dueling Arts International and teaches over 12 styles of combat from whip to broadsword.
The post Survive the Unholydays with the Practical Zombie Survival Class first appeared at The Undead Report.