Around Halloween every year, Elgin Illinois has a small problem with the undead. Hordes of zombies, monsters and ghouls take over the downtown, corralling what few survivors remain into a few shops, stages, and dance floors. This year again, the zombies will rule downtown Elgin on Saturday the 25th for Nightmare on Chicago St.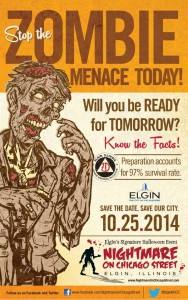 Unlike other Halloween events and parties, this one pulls out all the stops. The entire downtown area looks like something out of Dawn of the Dead or The Walking Dead. Be prepared to experience Hollywood level of effects and production with barrels of toxic waste, overturned cars, the local SWAT team, and gobs and gobs of made-up zombies.
Events in the safe zone include a costume contest, bands, music and DJs such as Steampunk Chicago's own Vourteque. Svengoolie and Burlesque acts will also take the stage and there will be plenty of vendors on hand to help you survive the night. Your very own Zombie Killer Sam was a vendor a few years ago!
Nightmare on Chicago Street
Chicago Street (Douglas to Villa)
Elgin, Illinois 60120
Saturday, Oct. 25th
See you in the safe zone! Weapons (even foam weapons) are not permitted, so you must use only your wits and your dancing shoes to survive. Stay low, keep groovin' and Happy Halloween!
The post Elgin's Nightmare on Chicago Street brings the apocalypse to you! first appeared at The Undead Report.