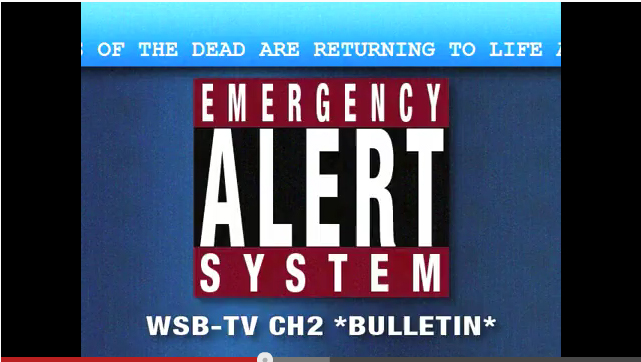 Whenever the zombies decide to rise from the dead, get infected, or break out of their secret government bunkers, a warning system might be nice. It turns out, the Emergency Alert System will be the perfect announcement.
Usually reserved for natural disasters or other such end scenarios, the EAS will take over our radio and TV broadcasts and let us all know we're about to die.
An Upper Peninsula of Michigan (and Montana, California, New Mexico) TV Station recently had their broadcasts hacked from an unknown source. This is the first breach of the system since its inception in the 1940s. The WNMU messages warned with a crawl strip, and an audio message said "dead bodies are rising from their graves" and "attacking the living."
Given recent end of the world paranoia, perhaps more than a few college students got excited at the notion of skipping finals this semester.
Unfortunately folks, this was just a hoax. We're still waiting. But luckily, the EAS is there for us. It's security leads a little to be desired. As we all know, the four most-used passwords are: love, sex, secret, and god.
The post Emergency Alert System hacked to warn of zombies! first appeared at The Undead Report.