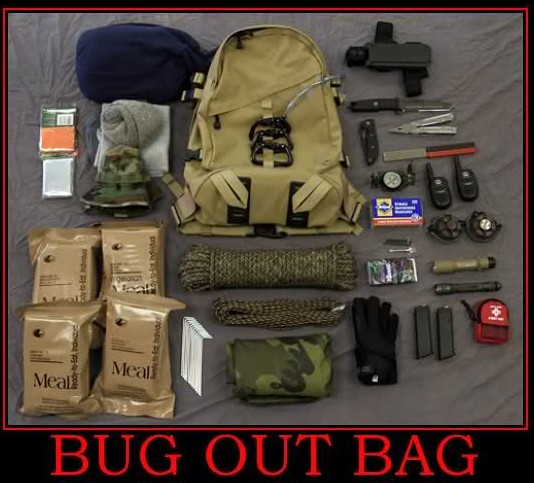 If the world will truly really come to an end in just ten short days, you'll want to be prepared. Hopefully, you've made some long term plans, but if your long term plans involve staying mobile, you'll want to make sure you're packed and equipped for it. Don't buy a pre-made kit. It will be overpriced and understocked.
Go Bag, GOOD (Get Out Of Dodge) Bag, SHTF Pack, Innawoods Bag, PERK (Personal Emergency Relocation Kit), 72 Hour Bag. Whatever you call it, make sure it's packed and ready to go next week. Here's a short, but by no means complete, guide to what to pack in that bag.
1 – Water! You'll need a few quarts per day. Think collapsible containers, or multipurpose, such as a metal canteen you can boil or collect water in. Don't forget filtration for refilling on the go! Hydration bladders will come in handy.
2 – Food.  MRE's  or freeze dried are perfect for this, but you can supplement or substitute energy bars, trail mix, protein bars, etc. You'll need 2000 calories a day, and perhaps more if you're very active or in a hostile climate. You want max calories at minimum weight.
3 – Shelter. A military poncho will work in a pinch, and can be setup in many ways, but a small tent would be ideal. Don't forget a tarp for bedding and a sleeping pad/bag. You must have a pad between you and the ground. Pack some mylar blankets too.
4 – Clothing. You'll want an extra set of clothes or two (don't forget the undergarments). Ideally, something that is good for your location, and something that matches so you can still maintain a put-together appearance. Old work clothes will suffice, but make sure they can stand up to heavy use. AN extra pair of footwear may be a blessing. Make sure you pack a few bandannas, which have hundreds of uses.
5 – First Aid Kit. Many are available online or in store, but you'll still want to inspect it and be familiar with the contents. Be sure to augment it with any prescriptions you may need. Also, add additional painkillers, caffeine tabs, bug spray, chapstick, anti-bacterial ointments, and bandages. If you're not trained in CPR/First Aid, there's still time! Don't forget personal hygiene like toothbrushes and TP. Don't get zombie mouth!
6 – Fire. You must pack several different sources of starting a fire, and perhaps even pack them in a few different spots. Lighters (Some come with LED flashlights built in), matches, tinder (cotton balls or TP in a pinch), fire starters, and perhaps a magnifying glass.
7 – Illumination. Headlamps, flashlights, and the batteries to go with them. Glowsticks will come in handy and are cheap and lightweight.
8 – Tools and gear. Multitool, pocket knife, 550 paracord, carabiners, machete, axe, mirror, binoculars, whistle, zip ties. This includes firearms and fighting knives as well. Duct tape! Cash, passport, and important documents may be necessary.
9 – Communication. This includes GMRS/FRS walkie-talkies, crank/solar powered emergency radios, spare cell phone, extra batteries, and even signal flares. You'll want to know what's going on.
10 – Navigation. You'll want to know where you are, and where you're going. Maps, maps, maps. Compass. A second compass. Spare GPS if you have it (assuming space zombies don't knock out our satellites). Make a plan, and make sure people in your party have the same plan.
11 – The pack itself. You don't have to start huge, you can start with something you have, or a pack you find for cheap, but make sure its roomy, sturdy, and has good support.  Many people choose the military pack route, and that's perfectly fine, but oversize school backpacks and camping packs will offer enough support for at least three days. MOLLE straps are great for attaching gear. You don't need to invest a lot, but look for something to assemble that will meet your demands.
There are plenty of resources to learn more and get more tips.
The 7 Types of Gear you must have in your Bug Out Bag
This list is by no means exhaustive. What's in your bug out bag?
TEN.
The post 10 Days until the Zombie Apocalypse: 10 Items for your Bug Out Bag first appeared at The Undead Report.