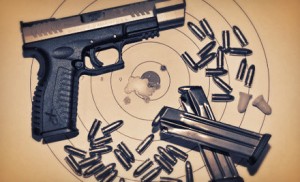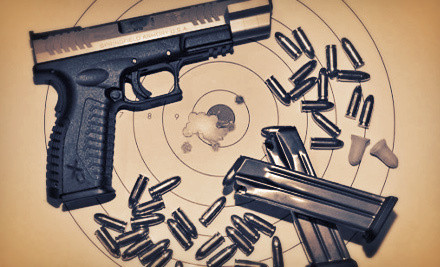 Practice makes perfect. And perfection is headshots. The Hallowe'en season is upon us once more, and with the 2012 apocalypse drawing nigh, it means plenty of zombies, shooting, and terror to go around.
If you're in the Chicago area, you have plenty of awesome options this fall for as-close-to-the-real-thing zombie shooting.
Live Fire Zombie Shoot
DMZ Tactical is a gun range in the Chicago burb of Homer Glen. Their team has assembled a four stage shooting experience with handguns and shotguns. Gun rental is available, and no FOID card is necessary!
Hone your skills at the DMZ Tactical Zombie Eradication Shoot!
If you hurry, you can have the experience for $65 via a Groupon deal!
Paintball Zombie Hunt
Zombie Safari is under way at Paintball Explosion in East Dundee, IL. Zombie hunters are armed with a Tippman Custom 98 paintball marker, and set out on the trails to defeat the zombie invasion! Entry and 50 rounds start at $20.
Paint up some zombies at Zombie Safari!
Zombie Attack is being held at CPX sports in Joliet. CPX sports is a huge paintball arena with many fields including urban combat zones, abandoned parks, and even a jungle temple. Hunters will be given paintball guns and balls to defend against the invasion!
CPX Zombie Attack starts at $30 for the experience.
ADVANCE NOTICE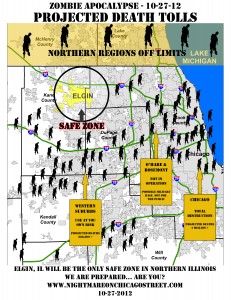 Undead Report will be vending at Nightmare on Chicago Street in Elgin, IL Saturday October 27th! I'll be selling stickers, military surplus, clothing, zombie targets, Nerf guns and more!
Two stages of music, acts, vendors, horror, and a downtown turned apocalypse wasteland await! This is not to be missed!
Are you a fan on of The Undead Report Facebook?
The post Hone your apocalypse skills with zombie shooting this fall first appeared at The Undead Report.