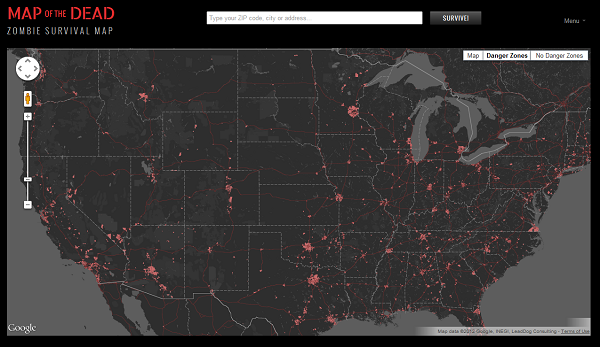 Just in case Google maps are a bit too confusing, some good folks have put together a concise, simple and easy to use survivalists map. It highlights danger (populated) zones in bright red for starters. But the real information lies in its easy to understand directory of gun shops, hospitals, liquor stores, gas stations and the like.
Now remember, this map won't be around should the Internet die, and it's based on Google's mighty information servers, so it's subject to some inaccuracies. People in the UK and Australia are still out of luck when it comes to firearms, but hey, at least you'll know where to find them in the US.
I suggest making a local map of at least three neighboring counties so you can find immediate provisions, and keeping the map in an easily accessible place.
The post Map of the Dead first appeared at The Undead Report.