It's not just firearms and ammo manufacturers that have jumped onto the zombie bandwagon. Knives and tools abound for those of you with smaller budgets or in areas where firearms are difficult, if not impossible, to abtain. Everything from crowbars to targets are getting the zombie treatment.
Crowbars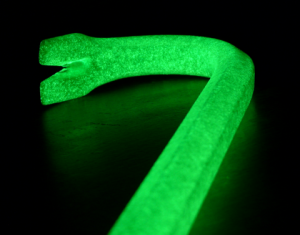 First on the docket: crowbars. This indispensable tool is often neglected, but still an important asset to any survivalist, prepper, or zombie hunter. If Gordon Freeman is in your squad of headcrab-hunters, make sure you toss that mute warrior the Glowbar. The Glowbar is a glow-in-the-dark crowbar. Pretty damn useful for protecting your base at night. I would advise against bringing it on a mission as it may give away your position, but seeing it faithfully glowing in your weapons rack opposite your bed will certainly provide some peace of mind.
You can get your hands on the Glowbar for about $60 bucks.
Knives
The ever reliable and battle-proven knives of Ka-Bar have also received the zombie treatment. Ka-Bar knives are outstanding on their own, but a little morale boost always helps. Personally, I own the full sized Ka-Bar Tanto, perfect for stabbing, chopping and cutting. I've had mixed results throwing, but I aim to improve that. (Note: practice throwing at a haystack or similar soft object so side-on throws don't bend the blade or hilt.)

Ka-Bar's zombie knives are an excellent addition to their line. The zombie war-sword (pictured above) is a mean undead-infected-meat cleaver for sure.
If you want something smaller, grab a folder or theferocious looking  Zombie Famine Tanto. All zombie knives come with sheaths and black grips as well.
Targets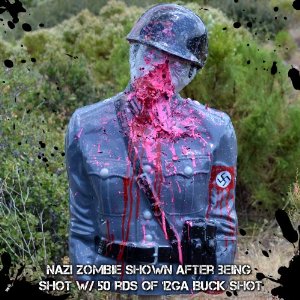 In case the target range is getting boring, you can spruce things up with a few colorful bleeding targets, perfect for knife throwing as well. Zombie Industries has produced an ooey-gooey Nazi zombie target that "bleeds" when hit. It's a life sized target that can take a thousand rounds. Presumably, it can take only one decapitation.
No more excuses! Stock up and start practicing.
The post Even More Anti-Zombie Weapons and Gear first appeared at The Undead Report.