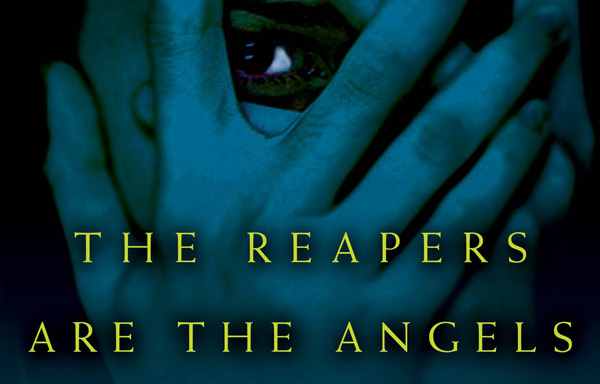 War torn, filled with anger, hungry for a purpose and killing along the way. It's not the zombies — it's the 15 year old heroine Temple in The Reapers are the Angels by Alden Bell.
I had the grace of receiving an advance copy of the novel some time ago, and have finally taken a break from my undead anatomy courses to sink my teeth into this novel. With shelves full of zombie fiction, guides, science and lore, it takes real work to make a book call out from the depths of zombie horror and fiction. Alden Bell uses a combination of masterful prose with torn and weary characters sink the reader's teeth into this novel. The novel updates the southern gothic setting without letting zombies fill in all gaps and get in the way.
Temple has known only the post-horror world; it's her world, and its the perfectly natural way to fight and survive alone, never more than an arm's reach from her precious Gurkha Kukri Knife. However, zombies, meatskins and slugs in this novel, are God's creatures too and don't always need to die. Struggling with mistakes of her past, she belongs to the world, and freedom amongst the meatskins is her home. After humans worse than any zombie cause her to run from a tortured but vengeful man named Moses Todd, she becomes burdened with life as a budding teenager, saving a shell shocked mute from his own death, and a clan of horrors unnatural to God's eyes.
At times covered with non zombie gristle and exposed to horrors worse than any ghoul, she maintains a belief the the world is still filled with hope, and beauty reaches out even to the lowest depths of hell. Uneducated and illiterate, she relies on her wits,  heart and a beyond-her-years knowledge of the world to survive and make amends for her sins past.
Alden's prose is almost magical, and creates a natural world out of  the horrors post zombie.
"So bright it was almost brighter than daytime because she could see things clearer, as if the sun were criminal to the truth, as if her eyes were eyes of night."
Fantastic lyrical passages mixed with a touch of necessary gore and fear keep the reader engaged throughout the journey.
The Reapers Are the Angels: A Novel
is highly recommended; experience the sad, dead and lonely apocalypse through the eyes of a child fighter born into it.
The post The Reapers are the Angels Expresses Horror of Meatskins, Human Condition first appeared at The Undead Report.