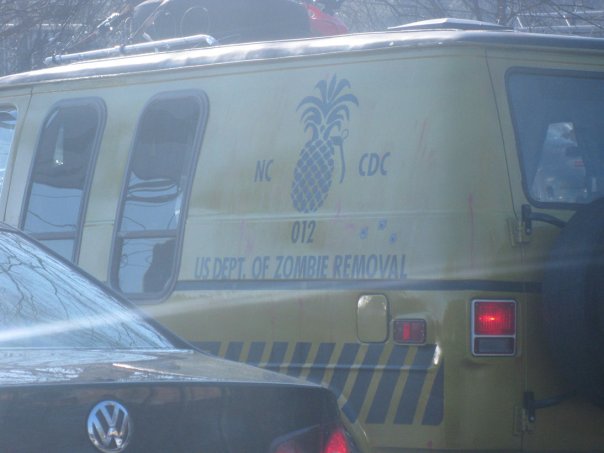 It would appear the government has been less than secret when it comes to zombie removal. (Stimulus Money Funds U.S. Dept. of Zombie Removal (Pic))
Minneapolis Appeals Court Rules Zombies Have Right To Free Speech 'They slowly lurched down the halls and said things like, "Get your brains here." Everything was going great until the police showed up' – I don't know how I feel about this. On one hand, zombies shouldn't even be allowed to have lower jaws. On the other hand, these were fake zombies. So, go us?
The Crazies (2010) 'A reinvention loosely based upon the George Romero classic of the same name, The Crazies is about the inhabitants of a small Kansas town suddenly plagued by insanity and then death after a mysterious toxin contaminates their water supply.' – George Romero knows zombies aren't always the reanimated dead. It makes it that much messier to have to kill live humans. At least you can aim for center of mass. But double-tap for sure. And don't drink the water.
Man bites thumb in pub brawl bite – 'A man bit the thumb of another man so hard that he nearly severed it during a fight outside a Sydney pub.'  – You think that's a bite? Now THIS is a bite! Only in Australia.
Conn. man bites Cambridge Hospital security officer 'Police responded to Cambridge Hospital for reports of an assault at 4:45 p.m. and found a security staff allegedly bit by a Connecticut man. The victim's middle finger had been bitten through a glove, had teeth marks on it and was bleeding' – Okay, I guess it happens in New England too. Time for better, more zombie bite proof gloves.
Woman bites a chunk out of her mom's cheek in fight A woman 'jumped on her mother "and bit her left cheek, causing a large chunk to be rended…' – Will you be prepared to kill your relatives in the event of infection?
It won't be fun. It will be people you know. It may be soon. Cheers!
The post Potential Zombies in the News first appeared at The Undead Report.