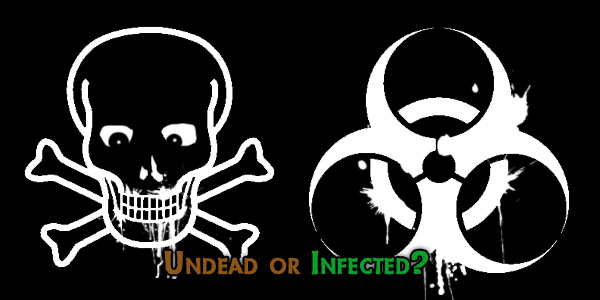 Undead or infected? Horror movie puritanism or scientific reality? Discussion and debate surrounds not which makes a better film, but which is more likely to happen. You can blame science. The zombie outbreak will most likely be the result of some experiment gone wrong, an adaptive virus, or horrible pathogen. Save a giant UFO hiding behind a comet that animates dead bodies instead of trucks and electric knives, many of us will die by actual, angry, infected humans.
Some possible, semi-grounded in science explanaitons, as offered by Cracked.com:
Brain parasites  – i.e. Toxoplasma gondii, or Naegleria fowleri.
Neurotoxins – (Tetrodotoxin, though this just induces a coma-like, non threatening state).
Adaptaive and aggressive rabies strain or other neurotropic virus  (resulting in aggressive and contagious rabies like symptoms).
Neurogenesis (recreation and reanimation of brain cells).
Nanobots (though not a traditional infection, imagine a Terminator like apiocalypse, only with hundreds of thousands of self-replicating, human hating machines).
Immortal cells – i.e. Helacyton gartleri cancer cells which do not die.
There won't be reanimated corpses. If you survive the infection, you will be murdering alive, and perhaps conscious humans.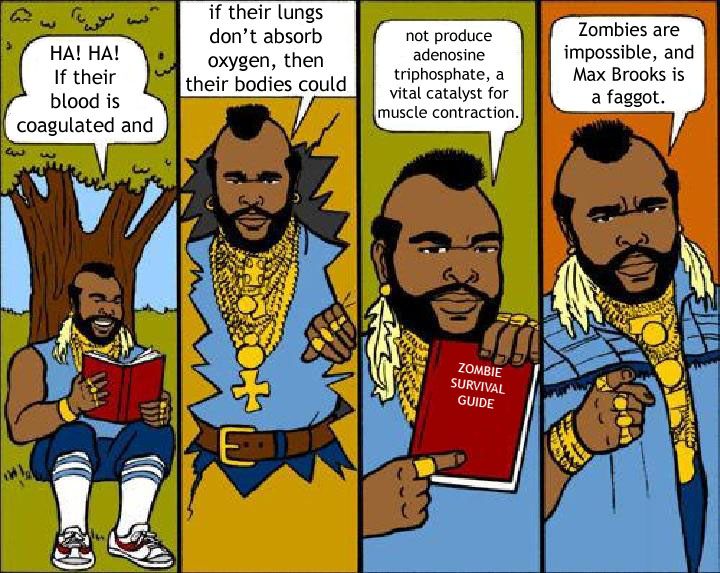 Mr. T is half right. There will be no reanimated corpses. Muscle movement depends upon Adenosine Triphosphate, which depends on flowing, oxygenated blood. Yet Mr. T. overlooks one essential fact: ATP is still be produced by very much alive, maddened and sickened humans. These humans may run fast or slow, but they won't be dead.
For some horror and zombie purists, no "infected" or fast zombie is a true zombie, they insist only the George Romero Night of the Living Dead slow moving reanimated corpses are actual zombies. These purists often claim the fast running new Dawn of the Dead undead are a new invention and should be left to die. The opposing and newer Danny Boyle 28 Days Later school says zombies are fast running, "rage" virus infected, living humans, and differentiates so by calling them "infected" instead of "zombies". Unfortunately, the Romero zombie (with a possible exception for voodoo) is only a zombie of film. The virus or disease infected zombie is much more probable. However, the undead and fast running, leaping, Boomer, Smoker, Witch, Tank or Hunter zombies must remain in Left 4 Dead and Resident Evil.
Your zombies will be very much alive, and they will be maddened and they will probably not feel or be aware of pain. They could seek you out, potentially in groups, though solitary or unmindful of other infected is also possible. They will not want to eat your brains, they will only want to viciously attack and bite anything that gets near them. Imagine the cross between a rabid wolverine and a violent, knife weilding psychopath. That's your zombie, and he or she will be contagious. Headhsots will certainly bring them down, as will multiple center of mass shots, but they will take many bullets before they are terminated.
You'll need to worry about the people who don't know they are harbingers of the virus, carriers of disease, or bringers of parasties. Who in your party can you trust? Did that bite really break the skin? Taking care of hordes of the undead may sound like fun, but mom won't be dead. She's still your mom. And dad didn't tell you yet, but she's pregnant with your baby sister. Are you sure you're up to this?
The post Undead or Infected Zombies? first appeared at The Undead Report.