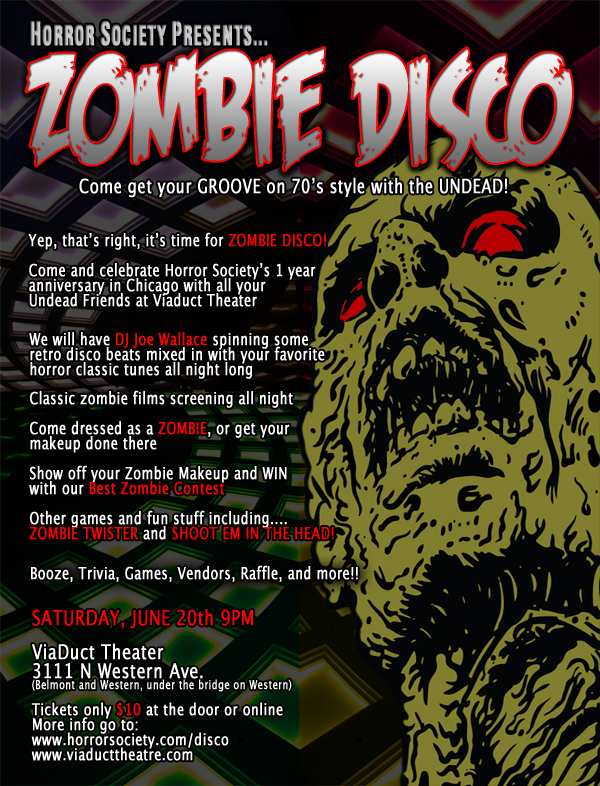 Some of you aren't going to survive the apocalypse. You'll be dead, dying, infected, boring or a just plain nuisance. This is a fact. If there's such a thing as a zombie apocalypse, someone is going to have to be the zombie. What better way to practice for your horrible undeath, than with movies, music, booze, games and awesome people?
This Saturday, June 20th, The Undead Report will be representing zombie hunters everywhere at the Horror Society's Zombie Disco in Chicago at the Viaduct Theater. I'll have a table setup with random violence, improvised weapon demos, zombie targets and artwork for sale, and whatever else I can think of. Have a suggestion? Leave a comment. This is an 18+ event.
What is a zombie disco? Well, its where zombies go to dance. The FORBIDDEN DANCE. Why has this website been reporting more about more zombie walks and themed parties than actual zombie news? Because the zombie apocalypse has entered the weltgeist. Everyone's thinking about it.  Scared. Running. Probably going to die. Have some fun in the meantime.
Details:
DJ Joe Wallace will spin your favorite retro disco beats mixed with horror classic tunes like Italian horror movie soundtrack sounds mega-mixed with disco and other craziness. Expect to hear Goblin mashed up with Daft Punk, Lipps Inc, the Cramps, Morricone mashed up with Aphex Twin, James Brown and Paisley Babylon. All night long in tandem with screenings of classic zombie movies.
Come dressed as a zombie or get zombified on the premises and win the Best Zombie Contest!
Other games and events include Zombie Twister, Shoot'em In The Head, booze, trivia, games, vendors, raffle & more!
ViaDuct Theater
3111 N Western Ave
(Belmont and Western, under the bridge on Western)
Tickets only $10 at the door or online
More info:
http://www.horrorsociety.com/disco
http://www.viaducttheatre.com
The post Undead Report at Zombie Disco in Chicago, Saturday first appeared at The Undead Report.