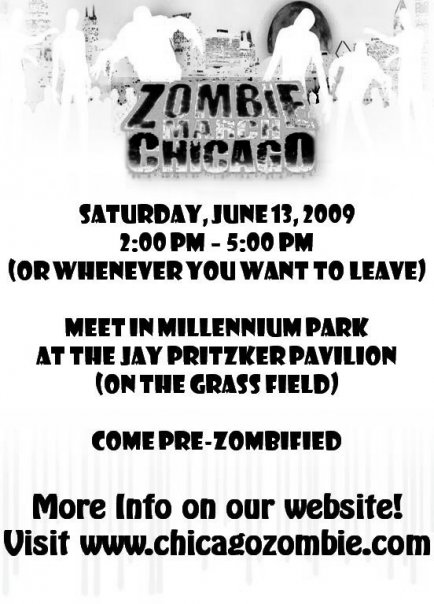 They came last year. I tried to stop them. I, well, I failed.
Now they're back.
Zombies are once again marching in Millenium Park. This time, it coincides with the Blues Festival, so it should certainly be interesting. Hopefully the only things being beaten by the cops will be boxes of donuts. I will be out of state on a recon mission. Think about it: if you knew zombies were coming, would you want to head right into the center of the mob? Sure, if you think you're super awesome Mr. Headshot, but the best way to avoid becoming one is to avoid them altogether.
Last year, I found three or four fellow zombie killers. I hope more of you show up this year! Rememebr, if you're coming with Nerf guns, keep them yellow or orange tape the tips. CPD is quite trigger happy. Represent zombie hunters world wide and send in your photos to sam at undead report dot com!
Zombie walks are a good theatrical produciton that serve well for training. It may even be advisable to act like a cowboy and steer the masses clear of the public.
More information can be found on the events Facebook page: http://www.facebook.com/group.php?gid=23561223992
The event is produced in part by Chicago Zombie. More information is available at their website, Chicago Zombie.
Details
As it would happen, the Zombie March coincides with one of the days of the Chicago Blues Fest, so play nice. Other rules include:
Follow all the laws. Just because you're in make up doesn't mean the cops will hesitate to tackle you down and arrest you. And yes, we will stand back and laugh at your ignorance. Also, it only takes one person to mess this event up forever. And we'll know who you are and hunt you down. K?
Don't harass people who are not part of the march on the streets.That's just not cool and will get you arrested. Even harassing someone who is part of the march without them wanting you to is grounds for arrest. Just basically keep your hands to yourself.
Don't litter. This includes dropping gratuitous amounts of blood or limbs on the floor. You will be punished. Everybody knows zombies do not tolerate littering.
Follow all the traffic signs. If it says walk, then you can walk. If it says it's the cars turn to go, then let them go. Although you may seem undead, a car running you over will finish the job. Not sure how you feel about that.
After we reach our destination, that doesn't mean it's the end of the line. If anyone wants to plan any other trips to other locations afterwards, tell me now and I'll see how many zombies I can send your way. Just send me your intended destination and I'll send another message later telling people your name and the locations you'd like to visit.
PS – Yes, I realize this is people dressing up.
The post This Saturday: Chicago Zombies March Again first appeared at The Undead Report.