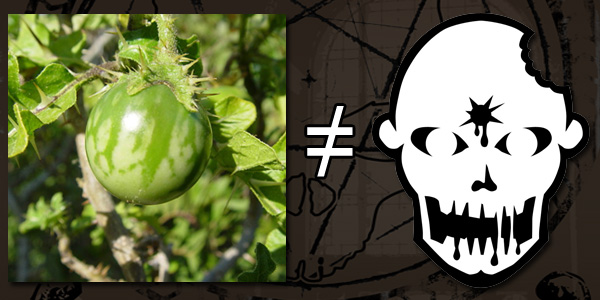 Solanum is fiction, solanum is not real, solanum does not cause zombies.
Many readers [Holden, mikac, Michael] have mentioned Solanum or written that they have researched zombies, finding Solanum to be the cause. FAIL. Solanum is a large, variable genus of annual plants and perennial plants. They often have attractive fruit and flowers. They are poisonous to humans (though not necessarily to other animals), but many bear edible fruits, leaves, or tubers.  In case you don't get the joke, one form of Solanum fruit is the tomato, Solanum lycopersicum. Potatoes, Tomatoes and Eggplants. Not zombies.
I'm not trying to deny or belittle those with concerns about zombies, it's just that the zombie creating Solanum virus is fake, and the record needs to be set straight. Focus your research efforts elsewhere. The Undead Report has focused at length about other possible zombie causes, including aggressive rabies strains, toxoplasma gondii, organ and cellular reanimative efforts and Helacyton gartleri. These are legitimate concerns, Solanum is not.
Max Brooks fails to fact-check a section of his own book. About page 130, he states "…hunters have come up against walking dead who only hours before were members of their own party!", when it is declared throughout the book that death and reanimation take approximately a day "Hour 23: Reanimation" (page 7). This is a pretty glaring mistake and should make clear that the ZSG is a work of excellent (and often humourous) fiction.
More information on the fallacy of zombie Solanum can be read at Above Top Secret, or Wikipedia which states "'Solanum', [is] the fictional virus that creates a zombie". If you have any information similar to actual viruses, bacteria or symbiotes which cause a zombie-like in mammals, please let me know.
The post Zombie Solanum is fiction. first appeared at The Undead Report.