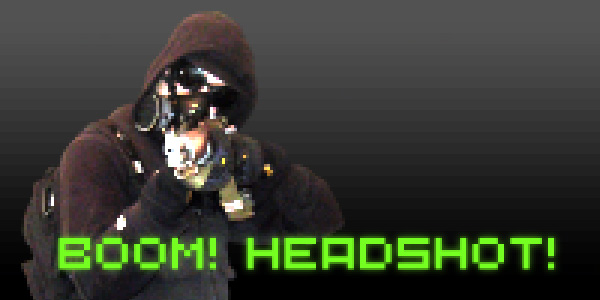 I love kiling zombies. But until they actually take over, I'll have to stick with video games and hippies.
The Undead Report now has an arcade. I got tired of looking for the really good games with depth, tactical considerations, replayability and addictiveness. Go to the arcade, have fun, stay a little longer, and practice getting some headshots in.
The games I've included are Flash based web games, although if I come across any good downloads, I will post these as well.
The Last Stand 2 – Features item and survivor searching, weapon upgrades,  and resource management. Never mind the shotgun, it's pretty useless here. Equip it to another survivor. Great visuals, gameplay and replayability.
Boxhead: Zombie Wars – A fun, fast shooter with weapon upgrades and a never ending supply of enemies. Setup lots of barrels for major explosive fun. Highly addictive.
Endless Zombie Rampage – You don't actually hang in the bunker you're trying to defend, but you do get some nifty guns to defeat the (rather slow) zombies coming your way. Upgrades are hard to get, so you better be a crack shot. Lots of gore!
As I find more excellent zombie games, I'll keep this post updated. Comment if you have any other good web-based zombie games I should know about.
The post Zombie Arcade Action! first appeared at The Undead Report.