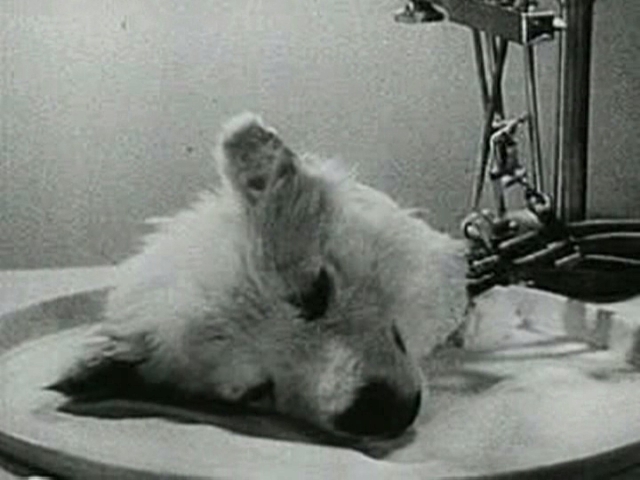 Reanimated corpse! Live on film!
I touched a nerve with my earlier post about reanimated dogs heads. This is a followup to that post, as well as an addendum to my article about types of zombies. This would fall under the scientifically reanimated corpse.
In the 40's, the Soviets were working on experiments involving reanimating mammals, specifically canines. In this film, witness the shock and horror as organs are reanimated though electricty and with mechanical hearts and lungs! Now, it's noted that this is no outstanding feat, a human heart can operate with nutrient rich blood and plasma alone. What's fascinating in this film, is the apparently conscious and reactive head of a dog. Is it merely muscle synapses and reflexes? Perhaps, but the dog shows a keen awareness to its surroundings, suggesting activated sight, sound and other senses.
Canines? Yes. Humans? Perhaps. How long can we wait? Hours or days? It stands that a reanimated human head would be responsive to its surroundings, and most likely not feral and try to eat you. This of course, begs the question of human souls and the like, where this news report will not go.
One thing remains certain. DESTROY THE BRAIN. You won't see that dog head barking and licking its chops if it has no brain.
The post Soviet Reanimated Dog Head: Film Revisited first appeared at The Undead Report.