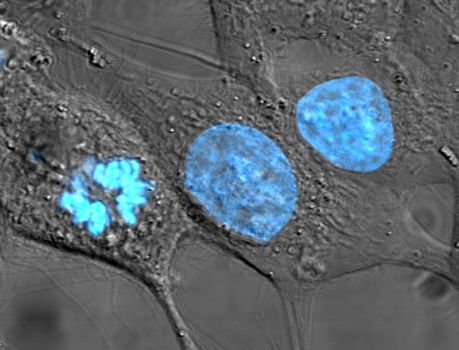 Zombies are like a cancer on mankind. They simply don't stop their horrendous task of eating and destroying and not dying. If you're not consumed, you become one of the undead. A plague upon the earth, forever replicating and never dying. Of course, such a thing must eventually break down and wear out because it must follow certain rules – all cells, even undead, will eventually breakdown through wear, age, or break down over the centuries through erosion.
This assumes zombie cells are not immortal. There exists a certain type of cell that doesn't break down. In fact, it's IMMORTAL.  They can copy and reproduce without mutation or error and can split indefinitely, causing no breakdown of the original, in theory consuming everything they can and replicating to the point of infinity. These immortal cells exist and for now have been a gift upon science – we can experiment and develop vaccines. Left unchecked, the cells become a plague upon cultures and taint results. This particular immortal cell is called "Helacyton gartleri", and it comes from a dead woman. In fact, there are more cells of this cancer than there ever were in this woman. A part of this woman lives forever, continuing to eat and replicate. Like a zombie.
These peculiar, though not undead, cells are from an average woman named Henrietta Lacks, who died in 1951. The same cells pulled from her cervical cancer (from HPV) are still alive. These cells, called HeLa, are common in biological research and are still being grown in an unbroken lineage from the original cells over 50 years ago. They're used in cancer research, vaccination development, and can reproduce faster than other cancerous cells. They consume, excrete, and will be here a thousand years from now still alive, along with the original culture from 1951. That's right – for all intents and purposes, her cancer cells are zombies.
HeLa cells can even be classified as a new species – Helacyton gartleri – spontaneously arisen from Lacks. The exhibit the following factors:
The chromosomal incompatibility of HeLa cells with humans.
The ecological niche of HeLa cells.
Their ability to persist and expand well beyond the desires of human cultivators.
Zombies are also incompatible with humans, this is an obvious point. The undead also have their own ecological niche – the ability to survive in most any clime, and the ability to consume most any flesh to add to their own hideously decaying cell structure. And the third point is also obvious – zombies are quite uncontrollable beyond human expectations.
Thus HeLa cells may have a cousin – that of the immortal zombie. If your brain tissue and brain stem become like HeLa, they will also live forever continuing those basic functions of motor skills and eating indefinitely – which is why I again stress that severing the base of the head and neck is most important. Brain cells are grown through neurogensis from brain stem cells, and if these cells take on the qualities of HeLa cells – well, you get the idea. A person is dead, but their brain will keep living – and feeding.
All we need next are scientists to experiment with manually regrowing dead brain cells.
The post Immortal Cells – Zombie cancer of mankind first appeared at The Undead Report.